Kiddicare – Babies at Play – Composed Image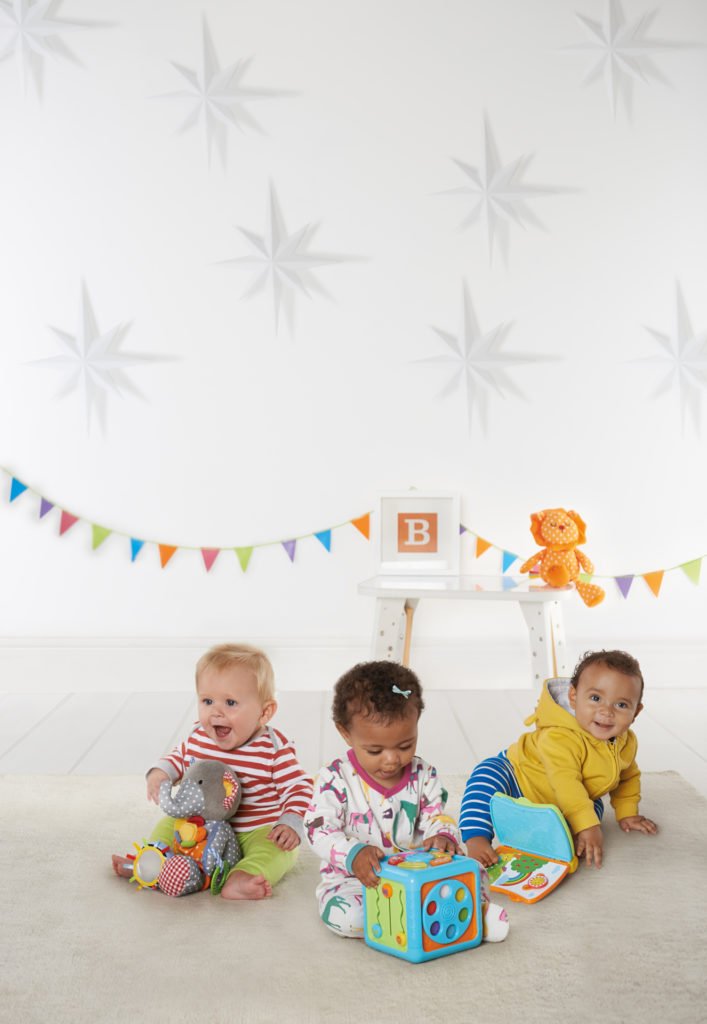 The Composed Image
As you can imagine working with children on a shoot will have its challenges and it is common for posters such as this one, to be a combination of many photographs.
For this project, the art director chose 5 of the 150+ shots taken that day to be added together to create this wall poster.
Much like another in the series of images, the Kiddicare Cowboys and Princesses, we had a separate image for the background. Then, added elements from 4 further images to combine into a final montage. 
We took the Camera RAW files, processed these and colour corrected all shots. Once we had a balance between them we started the building process.
"Be really fussy with your masking. Super fussy! Fastidious! Whatever you do as a retoucher, whether swatch matching, compositions or cut-outs – if your mask edges are bad, then your result will be bad." – Bill Greenwood
Each individual child was cut out and placed in the middle of the image. The stars that were integral to the seasonal theme were 'hung' on the wall, along with the bunting.
We swatched-matched the Kiddicare clothes (now found at Dunelm – kids) and the toys, to actual items from the store. This is an important process for any catalogue or promotional material. The client has to see a visual representation in print or online, that matches the goods. It is the job of the retoucher to get this absolutely right. 
In the end, the image must not look overworked. When the image works, the final composed image will look like it is a one-shot photograph.
See our assortment of Kiddicare Multi-Composite images here and throughout the portfolio.